Yoga individual classes or small groups of 2 – max. 3 people

The courses take place in a peaceful environment, in our newly renovated yoga room at the Jardin Prangeleu in Grand Bru 10, 6941 Villers-Ste-Gertrude/Durbuy. I teach in French, English or German. If it's nice weather, we can practice outside, in our wild permacultural garden.
Interested? Please get in touch: mail(at)prangeleu.be; tel.: 086 34 4892
Cost: 60 Euros for 1 hour / incl. VAT
the number of participants is limited to a maximum of 5 people in order to guarantee the safety distance: 5 m² per student
big windows can be wide open
Please arrive dressed, no open locker room
Please bring your own mat and warm clothes , plus a blanket for the relaxation
Yoga is a way of getting to know a fascinating person: yourself.
Here at the Jardin Prangeleu in Durbuy you can take yoga lessons for individuals (please see below) and for small groups of up to ten people (please have a look at the box on the right for more information).
If you have specific health issues, yoga therapy might be the right thing for you.
I work in the tradition of T. Krishnamacharya (1888-1989) who is sometimes called the "father of modern yoga". He taught Viniyoga, a healing form of yoga that puts each student at the heart of their own yoga practice.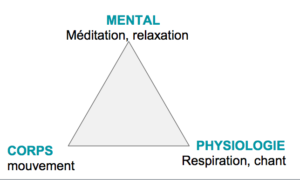 This involves exercises that address your body (asana), your breathing (pranayama), your voice (mantra/chanting) and your mind (bhavana/mental focus/ meditation). By combining breathing exercises and movements in your yoga practice you learn to observe yourself and you acquire patience (which can be hard). At some point you might come to understand that slow is beautiful! Both challenging and flowing movements can entail this element of slowness, and of patience with yourself, your body and your breathing.
I also include elements of Do-In, a Japanese form of self-massage, and Jin-Shin-Jyutsu, a gentle kind of auto-acupressure.
Individual, tailor-made lessons:

Would you like to have a tailor-made yoga practice to practice at home? Are you interested in achieving an even greater benefit from yoga by practicing it regularly?
Are you looking for a way to spend "quality time" with yourself – and create more space in your crowded daily routine? I work with you to adapt your yoga practice and provide what is best for you right now. Ultimately, you will take your yoga experiences home with you and start practising regularly on your own. I provide you with a personalised plan that describes the exercises and practice you need, and I give you a solid understanding of how to do it. Following your needs, and your progress, we adapt your practice continuously. Interested? Get in touch to find out more and to arrange a first lesson.
Cost for 60 minutes: 60 euros (incl VAT). We offer a discount for the guests of our apartment – please get in touch!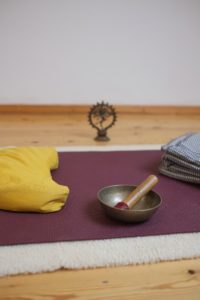 Seminars and retreats:
I also offer seminars and retreats which take place here in Grand Bru at the Jardin Prangeleu – please check our blog section to find out more or contact me in order to be informed on upcoming events via newsletter. We offer accomodation.
contact: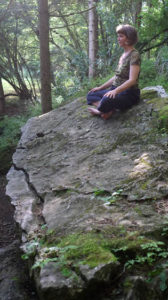 Nina Klein
certified yoga teacher (member of the Belgian Association of Yoga Teachers, ABEPY) with a diploma in yoga therapy (school of Dr. N. Chandrasekaran, Chennai/ India; Yoga Vaidja Sala)
email: nina(at)ninaanaisklein.de OR mail@prangeleu.be
tel.: +32 (0) 86 34 4892 (please leave a message if I am not there)
Grand Bru 10, 6941 Villers-Ste-Gertrude (Durbuy)
Tax & VAT number: TVA BE 0744 519 045
See also…