Find your own healthy balance!
We offer tailor-made retreats combining YOGA AND NATURE for you and your social bubble (max 3 persons) – including accomodation at our charming holiday apartment and use of our spacious yoga loft here in the region of Durbuy – south of Liège, in a region full of river valleys, beech and oak forests and bucolic landscapes. 
when:  you can choose the dates (min. 2 nights stay) –  write us an email: mail (at) prangeleu.be
where: "Jardin Prangeleu", 6941 Villers-Sainte-Gertrude, Durbuy, Belgium
for whom: for you and your social bubble* – max. 3 persons (no experience of yoga necessary)
what: a tailor-made programme on the topic of "In the Balance" – including: 2 hours of yoga daily, plus a guided nature walk through the local countryside (excursion of 1- 2 hrs each day).
Price of the retreat for your social bubble (= max. 3 people): 1 day of seminar, 2 nights accomodation: 550 euros incl. VAT.

We offer a preferential rate for accomodation if you'd like to book additional nights. Also, we can tailor the programme to your wishes – please get in touch!
Health is really about balance, at all levels: physical, physiological and mental.
Losing our balance can trip us up, literally or figuratively. Our physiological systems tick out of sync and our minds can go into overdrive. If we're in balance, we feel healthy, harmonious and ready to face the world.
We invite you to find your own balance, with a beneficial mix of yoga and excursions into nature, with lots of time to relax in a beautiful old farmhouse with a big, wild, permaculture garden, in the bucolic region of Durbuy, just south of Liège.
We will explore the concept of balance in health and nature, and the links between a healthy planet and our own health, in practice and – a tiny bit – of theory and philosphy.
Who are we?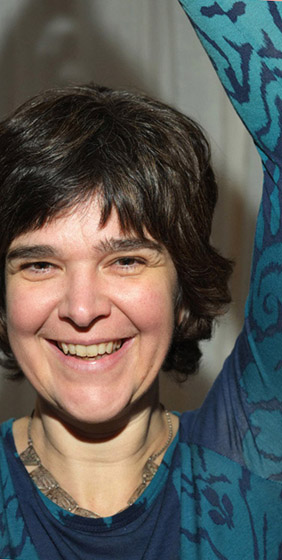 Nina Klein is a yoga teacher and certified yoga therapist, who will share a "hit-list" of exercises for balance, so you will gain a practical routine you can easily integrate into your daily life. This draws not only on yoga, but also on auto-massage and healing touch (jin shin jyutsu). Nina's focus is on adapting yoga to each individual. She will introduce you to yoga philosophy and the latest scientific findings which corroborate the relevance of balance for planetary and personal health. Nina is certified in Biodiversity and Ecosystem Services studies (Bournemouth University, UK) and in Sustainability and Behaviour Change (Center for Alternative Technology CAT, Wales, UK) . She takes her inspiration from the Global Ecovillage Network and is actively engaged in the Transition Network.
Learn more about yoga and yoga therapy on our website: prangeleu.be/yoga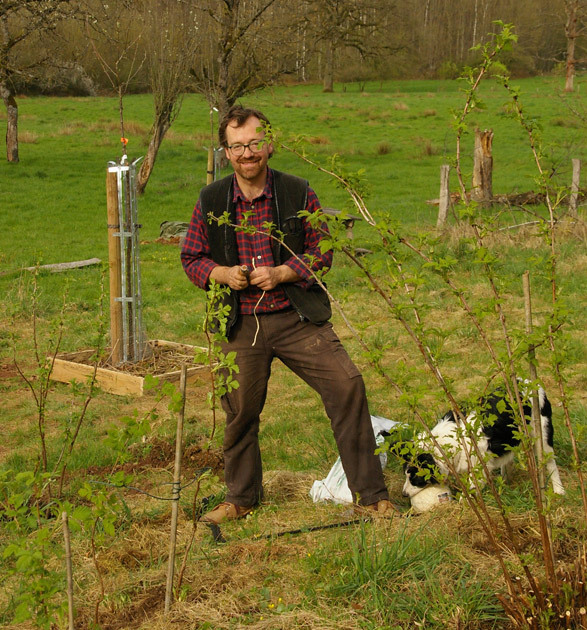 Alastair Penny, a gardener and beekeeper with a keen interest in permaculture will introduce you to our wild garden and lead the walks through the local countryside, discovering signs of life and wildlife, and exploring the idea of balance in nature.
Suggested programme for your retreat:
2  hrs of yoga per day (morning and evening session), tailored to your needs, and including a tiny bit of philosophy/ theory
1 nature walk each day (1 – 2 hrs)
Staying here: Our apartment of 55 sqm called "Jardin Prangeleu" offers a double and a single bedroom, as well as a studio living room with a fully equipped kitchen, allowing for self-catering. The apartment can host up to 3 people. With beautiful views at front and back, it is part of an old farmhouse set in a wild permacultural garden of half a hectare, surrounded by protected beech and oak forests. The renovations were done with taste and following our ecological heart. We are close to touristic hightlights of the region such as Durbuy or Liège.
You can find more information on accomodation at our website: prangeleu.be/room/mainroom/
Our bright yoga loft offers space for your own personal practice, and for guided yoga sessions. It is located on the second floor, under the roof, with big windows. If the weather allows it, we will use the garden for our yoga practice.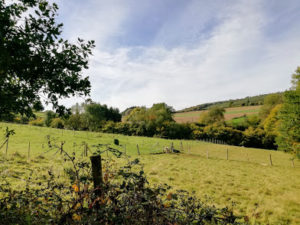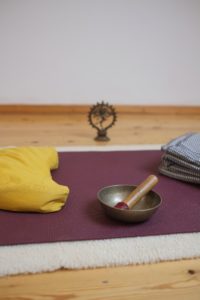 Interested? Please contact Nina Klein:
email: mail@prangeleu.be
Tel.: 0032 (0)86 34 4892
* We comply with the Belgian safety measures regarding COVID-19. The size of the group will be restricted to max. 3 participants, in line with the current regulations of the Belgian government (= 1 household plus 1 close contact). Our newly renovated yoga room has big windows for aeration, and allows for safe distances. All rooms used are disinfected regularly. As far as possible, we will also use the garden for yoga sessions.