Discover and maintain your own healthy balance. A weekend of yoga and nature, with delicious organic vegetarian food.
when:  Friday, 7 May, 12:30 pm – Sunday 9 May 2021, 6 pm
where: "Jardin Prangeleu", 6941 Villers-Sainte-Gertrude, Durbuy, Belgium 
Health is really about balance, at all levels: physical, physiological and mental.
Losing our balance can trip us up, literally or figuratively. Our physiological systems tick out of sync and our minds can go into overdrive. If we're in balance, we feel healthy, harmonious and ready to face the world.
We invite you to find your own balance, with a beneficial mix of yoga, excursions into nature, time to relax and some delicious, home-made organic vegetarian food. You will spend two and a half days as part of a small group (max. 5 people, safety measures guaranteed*), in a beautiful old farmhouse with a big, wild, permaculture garden, in the bucolic region of Durbuy, just south of Liège.
We will explore the concept of balance in health and nature, and the links between a healthy planet and our own health, in practice and – a tiny bit – of theory and philosphy.
Who are we?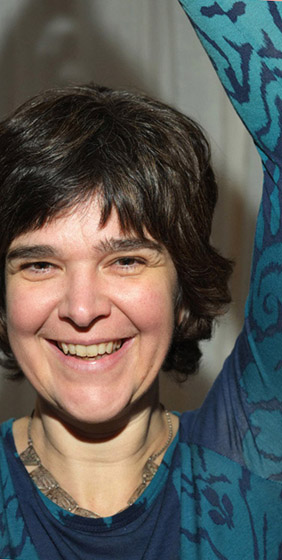 Nina Klein is a yoga teacher and certified yoga therapist, who will share a "hit-list" of exercises for balance, so you will gain a practical routine you can easily integrate into your daily life. This draws not only on yoga, but also mindfulness, massage (do-in) and healing touch (jin shin jyutsu). Nina will introduce you to yoga philosophy and the latest scientific findings which corroborate the relevance of balance for planetary and personal health. Nina is certified in biodiversity and ecosystem studies (Bournemouth University, UK), takes her inspiration from the Global Ecovillage Network and is actively engaged in the Transition Network.
Learn more about yoga and yoga therapy on our website: prangeleu.be/yoga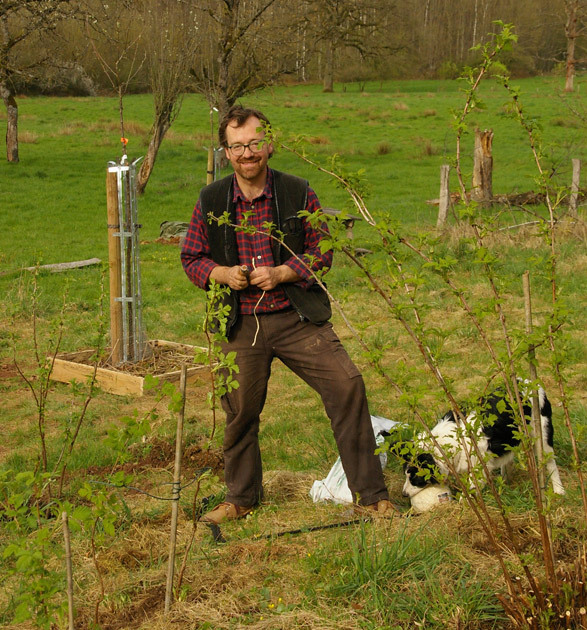 Alastair Penny, a gardener, beekeeper and enthusiastic cook, with a keen interest in permaculture will accompany you to explore the principle of balance in nature and the importance of our relationships to nature and to the food we eat.
What does the weekend cost?
Price: 300 euros incl. VAT (seminar & food)

This includes two and a half  days of seminar (180 euros) plus meals (full board) = lunches, breakfasts, coffee/tea breaks, dinner; with homemade, local and organic vegetarian food (120 euros).
Please let us know in advance if you have any allergies, food intolerances or special dietary requirements.
Optional – not included in the price:
Optional individual yoga lesson with Nina, before or after the seminar: 80 euros (2 sessions of appr. 1 to 1,5 hours each, 10% discount, first come first serve basis)
Accommodation
Staying here: a few rooms are available at the seminar centre Jardin Prangeleu at prices from 70 euros (room with double bed) to 40 euros (single room) – all rooms have shared bathrooms. We can offer you an additional free stay for one night (either Thursday 6 May or Sunday 9 May 2021) if you choose to stay at the seminar centre. More information on accomodation at our website: prangeleu.be/room/mainroom/
There are also other nice rooms and B&B options nearby. We'd be happy to help you with the booking.
Address: Jardin Prangeleu, Grand Bru 10, 6941 Villers-Ste-Gertrude
Interested? Please contact Nina Klein:
email:
nina (at) ninaanaisklein.de OR mail@prangeleu.be
Tel.: 0032 (0)86 34 4892
* we guarantee you to comply with the Belgian safety measures regarding COVID-19. The size of the group will be restricted to max. 5 participants. Our newly renovated yoga room has big windows and allows for safety distances. All rooms used will be disinfected regularly. As far as possible, we will also use the garden for yoga sessions.