Experience yoga and yoga therapy in a peaceful setting
Do you have the feeling your life is speeding up while you are getting left behind? Would you like to remedy muscle aches, back pain, fatigue or tension? Do you want to feel lighter, more energetic and more at ease with yourself? Do you yearn for more physical and mental flexibility?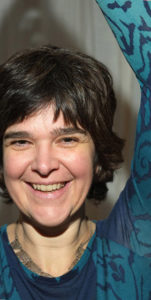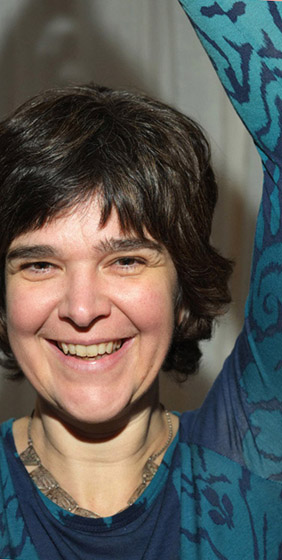 … then yoga is the right thing for you
Yoga is a way of getting to know a fascinating person – yourself. I offer yoga lessons for individuals and for small groups of up to five people. I work in the tradition of T. Krishnamacharya (1888-1989) who is sometimes called the "father of modern yoga". He taught Viniyoga, a healing form of yoga that puts each student at the heart of their own yoga practice.
This involves exercises that address your body (asana), your breathing (pranayama), your voice (mantra/chanting) and your mind (bhavana/mental focus). By combining breathing exercises and movements in your yoga practice you learn to observe yourself and you acquire patience (which can be hard). At some point you come to understand that slow is beautiful! Both challenging and flowing movements can entail this element of slowness, and of patience with yourself, your body and your breathing.
I work with you to adapt your lessons to provide what is best for you right now. Ultimately, you will take your yoga experiences home with you and start practising regularly on your own. I provide you with a personalised plan that describes the exercises and practice you need, and I give you a solid understanding of how to do it.
I also include elements of Do-In, a Japanese form of self-massage, and Jin-Shin-Jyutsu, a gentle kind of auto-acupressure.
One hour of teaching for one to max 7 people costs 60 euros. The lessons take place in our yoga room ath the Jardin Prangeleu, in 6941 Villers-Ste-Gertrude.

Yoga therapy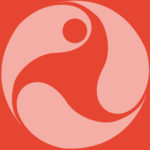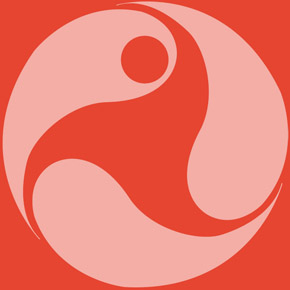 The aims of yoga therapy are to prevent the aggravation of an illness, to alleviate pain and ensure a higher quality of life, and, if possible, to eradicate the causes of an illness.
The therapy is designed to complement any medical treatment you might already be receiving.
How it works…
Yoga therapy starts with a basic course of two sessions, each lasting up to an hour and a half. During this basic course I devise a set of yoga exercises specially for you that takes into account the amount of time you can devote each day to your practice.
In the first session I examine your health profile (including flexibility and energy tests, pulse, blood pressure, etc.) and advise you on aspects of lifestyle and nutrition. You also learn the basic principles of yoga for a relaxing evening practice (e.g. movements, breathing, mantras/chanting, mental focus).
In the second session you learn your tailor-made yoga practice, which accommodates your health profile, and addresses your specific health issues. You receive a written hand-out describing this practice to take home with you.
The two 1½-hour sessions are held as closely together as possible – ideally on consecutive days. Additional sessions are then arranged according to your needs, depending on your wishes, the illness, symptoms and the progress you make. Some issues can be dealt with fairly quickly, some may take time.
The package price of the basic course ( = two sessions) is 90 euros. Additional sessions are charged at 60 euros per hour (incl. VAT).
Why yoga therapy?
Yoga therapy is new to Belgium, but is already well known as a complementary therapy in countries such as India, USA, France and Germany. Its benefits have been scientifically proven in numerous areas, including:
muscles and articulation, e.g. neck and back pain
cardiovascular conditions (hypertension, palpitations, venal return…)
metabolic diseases (diabetes, constipation, weight problems…)
problems of the immune system (inflammation, allergies, lowered immunity …)
hormonal imbalances (problems of the reproductive system, thyroid glands and other hormonal systems)
stress, insomnia, anxiety, fatigue and other conditions.
About me
In the 1970s my mother, Renate Klein, was one of the first yoga teachers in Bavaria, Germany. She inspired the love of yoga in me and I have followed that inspiration ever since. I have practised yoga for more than 35 years, and for the last 10 years have received my personal practice from teachers in Germany and India.
Today, I'm a certified yoga teacher in the tradition of T. Krishnamacharya, T.K.V. Desikachar and Sriram, having completed four years of training with my teachers Jürgen and Cornelia Slisch in Frankfurt, in 2013. This qualification is recognised by the German Association of Yoga teachers (BDY) and the European Yoga Union.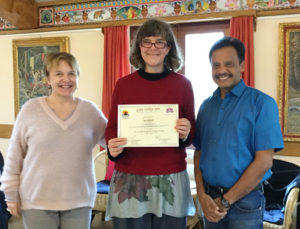 After seeing the beneficial effects of yoga on health, I was curious to learn more about yoga therapy, so I enrolled in a training course with Dr. N. Chandrasekaran. An Indian medical doctor and yoga therapist, he worked for ten years with T. K. V. Desikachar, the son of T. Krishnamacharya, in Chennai, India, before setting up his own yoga therapy practice. The yoga therapy course took place in Belgium, France and India, and I graduated in 2018 after four years of training.
Now I am happy to share my knowledge of yoga with you, both as a valuable life skill and as a therapeutic aid.
Interested to know more? Please get in touch:
nina(at)ninaanaisklein.de
Grand Bru 10, 6941 Villers-Ste-Gertrude (Durbuy), Belgium