Measuring about half a hectare, the garden encompasses a surprising number of different habitats and landscapes. These range from an extensive meadow and a small patch of wood that connects us with the surrounding forest, to a young orchard of locally adapted, heritage fruit trees. There is also space for aromatic herbs and small fruits, as well as traditional vegetable beds and less traditional permacultural experiments.
Well-established hedges and thick belts of brambles, hawthorn and blackthorn surround our new areas of cultivation. We are working to find an acceptable balance between "production" and "nature reserve" – between sustainable food for us and the biodiversity that has flourished here for many years, thanks to the "neglect" of the land before we arrived.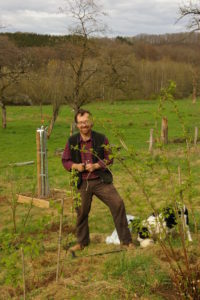 Our plans for the future include adding more bees and trees in the orchard, as well as a chicken coop, a greenhouse and a large pond. These will also find their place within the natural garden, and will not exclude nature.
Activities in and around the garden
We want to share our garden with visitors. If you are a guest in the apartment or if you're an experienced or aspiring gardener yourself, we are always happy to show you around and to share ideas and know-how.
Once a year we participate in the Open Garden Day organised by Durbuy council (PCDN). Sadly this was cancelled in 2020, due to coronavirus!
We also include gardening and nature-watching activities in our workshops and seminars, and we will provide more opportunities for cooperation and volunteering, as well as organised learning activities, as the garden develops.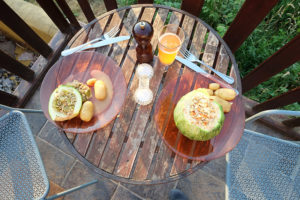 Besides learning in the garden itself, we want to host events for sharing knowledge about the processing of garden and local produce, (jams, honey, preserved fruit and vegetables, etc.), including seminars on cookery and bread-making.
See also…